Wedding Cars & Wedding Taxis By iDoTaxi.co.uk
iDoTaxi.com / TaxiWeddings.com / TaxiWedding.com / RankEvents.co.uk
est. 2006
Welcome to wedding cars & wedding taxis by iDoTaxi, we are a family run Wedding Car company
suppling black and white London Taxis for your bridal transport.
Based in South Manchester covering most of the UK Mainland.
Your wedding day is one of the most important days of your life! We understand this and with our Wedding Cars & Wedding Taxis we want to help you make it as special as we possibly can. We provide a bespoke wedding car service with our unique wedding transport to suit your specific requirements.
Whether you prefer our modern style Wedding Taxis, classic style Wedding Taxis or even our classic black London taxi, you will truly arrive in style with us!
Our experienced Wedding Car drivers are the perfect balance of professional and friendly
and will deliver you and/or members of your party safely to your venue.
We also have Wedding Cars available with full disabled access for wheelchair users (add note on quote form if required).

I booked iDoTaxi for my wedding transport and would 100% recommend.
Danielle Upton, March 2022

nn
New Years Eve Manchester Wedding
Honoured to be part of the wedding of a good friend and fellow cabbie
On New Years Eve we looked after the bride, groom and their lovely family for their big Manchester Wedding. The brides father is a Manchester `cabbie`, and we were honoured that she chose iDoTaxi to look after her and the bridal party with our Manchester wedding cars.
Thank you Rob for an excellent service. The wedding vehicles were immaculate, wedding drivers were professional and courteous.
The whole day was a big success, you and your team helped that happen. Thank you.
Mike Daniels, Farther of the bride, Manchester wedding 2021/22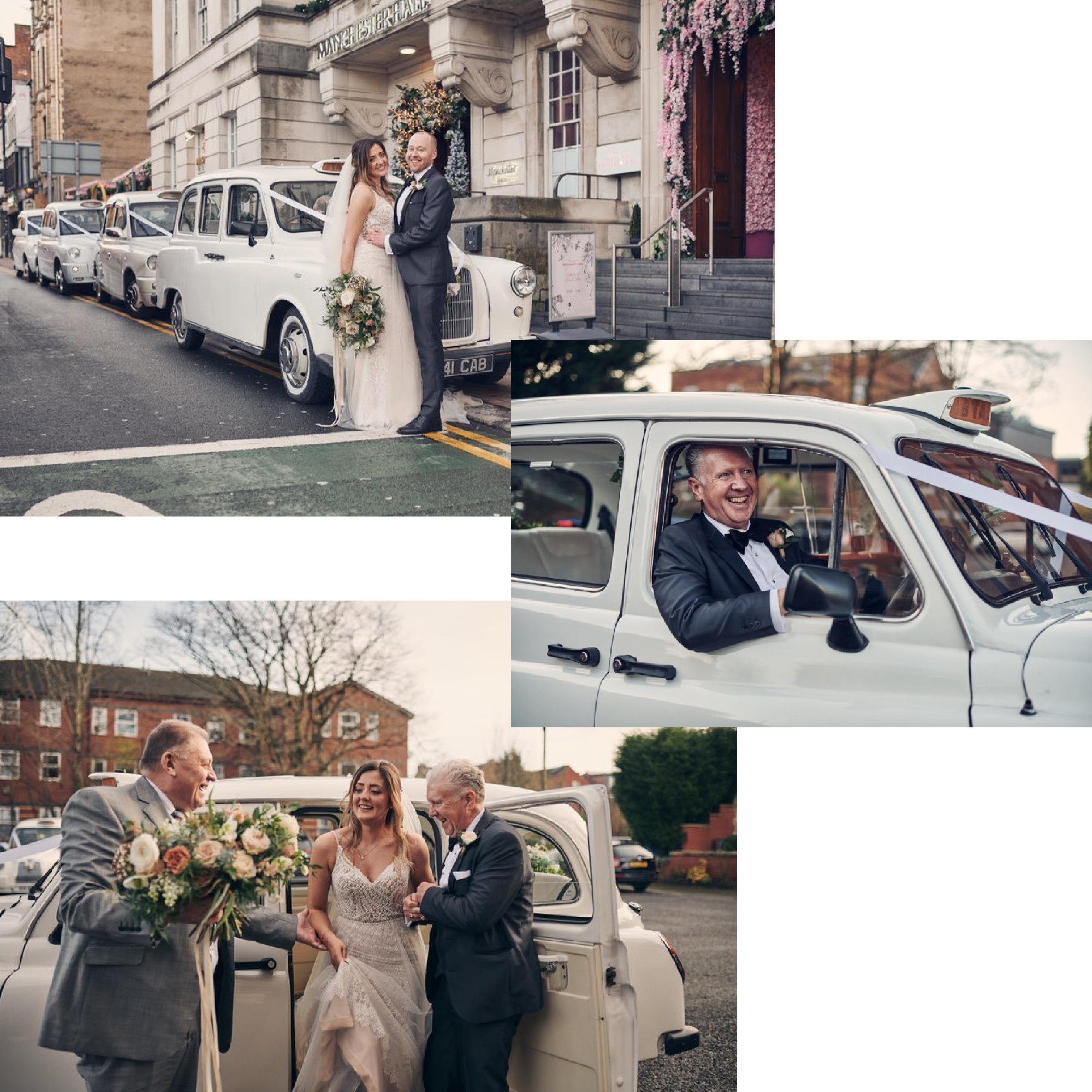 Why Book your London Taxi with iDoTaxi?
Four reasons to book your London Taxi wedding cars with iDoTaxi
Communication was great, the cars where exactly what we'd hoped for and the drivers very professional and punctual. Thank you for being a part of my wedding day!
Caroline McAleavy April 6th

Liverpool Wedding Taxis, iDoTaxi on duty in MerseySide
Although we are based in Manchester, Liverpool is our second city and somewhere we love to work on weddings.
The vibrant city of Liverpool makes a great setting for any wedding and our wedding cars can provide an extra special element.
We find ourselves somewhere in Merseyside most weekends during the summer months, and the lovely people of Liverpool are always so welcoming!
Our Wedding transport is perfectly set up for up to five bridesmaids, or for the bride and groom to enjoy a glass of bubbly en route to the Reception.
Over the years we've formed strong relationships with many great venues and suppliers throughout the Liverpool wedding scene, Sefton Palm House, St Georges Hall & The Royal Liver Building to name a few.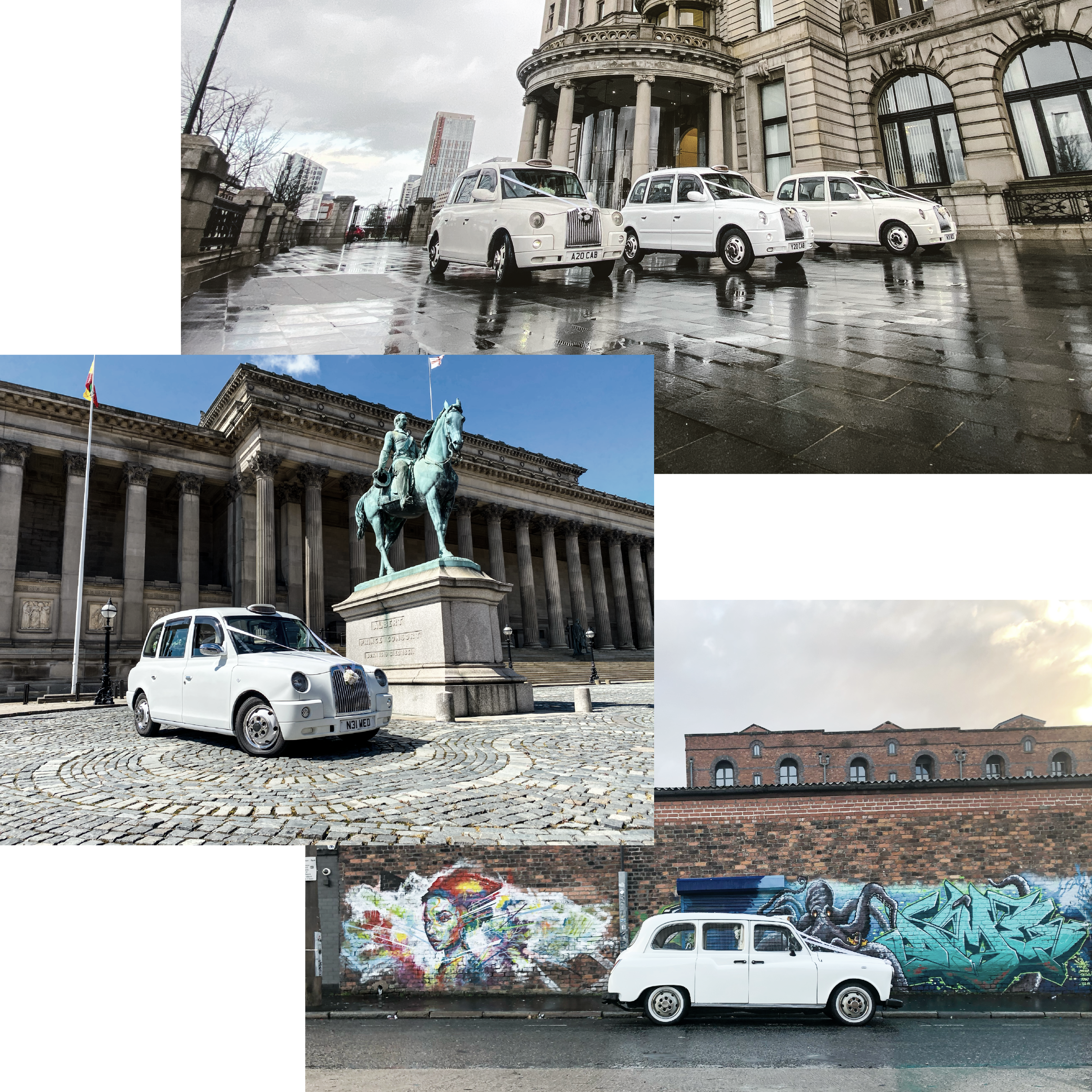 Real Weddings... Manchester 2023
Say "I Do" to the Perfect Ride!
Your wedding day is a memory in the making, and every detail matters. When it comes to choosing the perfect ride for your special day, consider the wedding taxi your secret ingredient for a flawless celebration. Here's why:
Stress-Free Travel: The last thing you want on your big day is to stress about transportation. With our wedding taxi service, you can relax and enjoy the journey while our experienced chauffeur handles the rest.

Timeless Elegance: Our classic wedding taxis exude timeless elegance and charm, setting the stage for a truly magical day. Whether you prefer vintage or modern, our fleet offers a range of choices to match your style.

Affordable Luxury: We believe that luxury should be accessible. Our wedding taxis offer the perfect blend of sophistication and affordability, making your dreams a reality without breaking the bank.

Local Expertise: Based in Manchester, we know the city inside out. Count on us to navigate through the best routes and get you to your destination on time, without a hitch.
Make your wedding day unforgettable, with a wedding taxi that adds a touch of class and convenience to your celebration.
Pictures from an August wedding in Partington and sent to us by the bride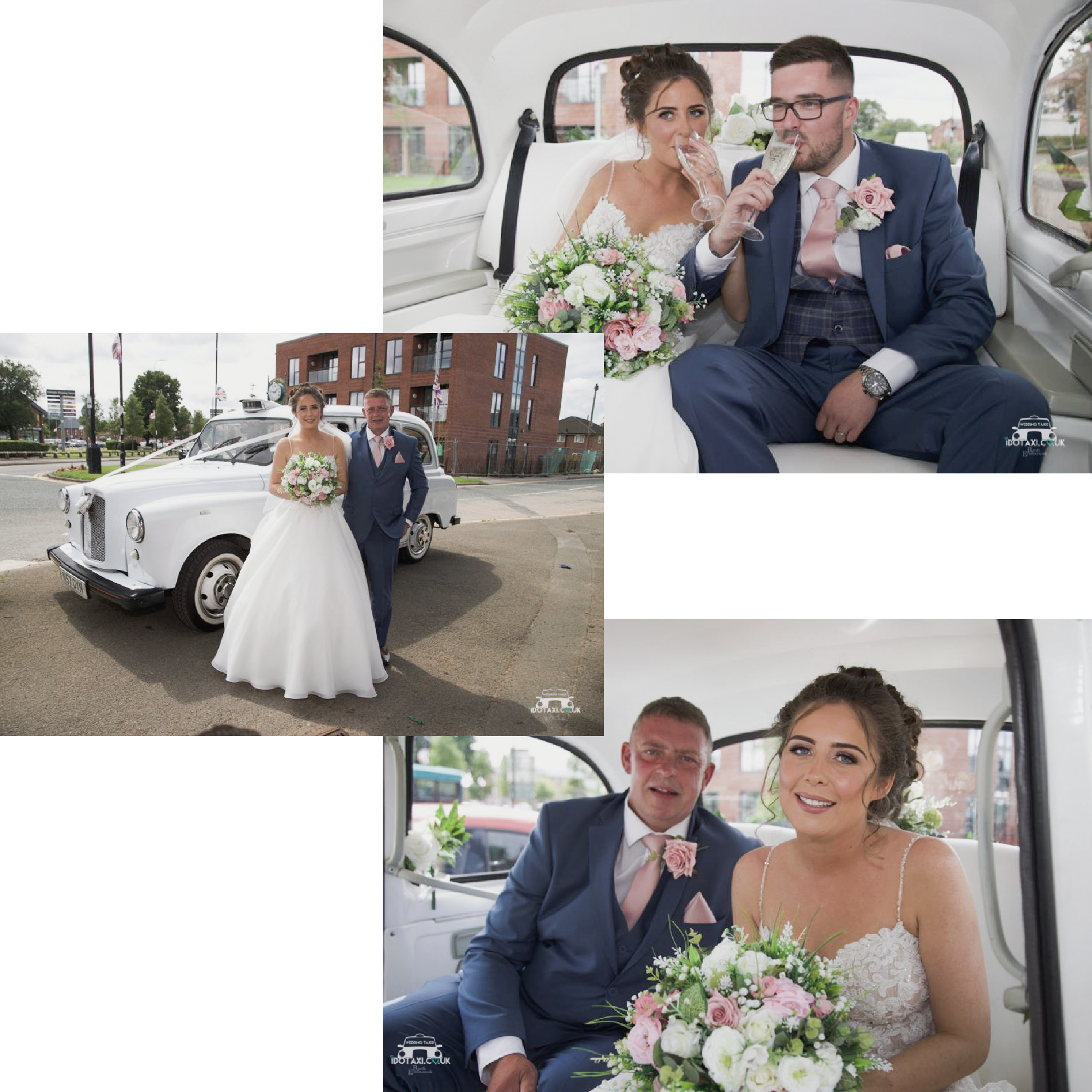 Cheshire Wedding Cars & Photo Booths
We love a Cheshire wedding, and our Cheshire wedding cars are a great fit for any Cheshire bride on their big day.
It may seem like those with an empty barn or quite farm have created a wedding venue, but with view of the Cheshire countryside and a demand for alternatives to the big hotels, why wouldn't you use your space more effectively?
I must say that a lot of these venues have been built and managed incredibly well: stock farm, Owen House and Sandhole Oak Barn, to name a few.
Many of these manage to make a one stop shop for your wedding day. Even in the occasion that your venue does not require our Cheshire wedding transport, we've found our
Photo Booths (pictured below) to be a great fit for any Cheshire wedding.
Perfect service. The car was beautiful and comfortable. Even more importantly, the driver was lovely. Very calming and professional.
Bella, Cheshire Wedding 2022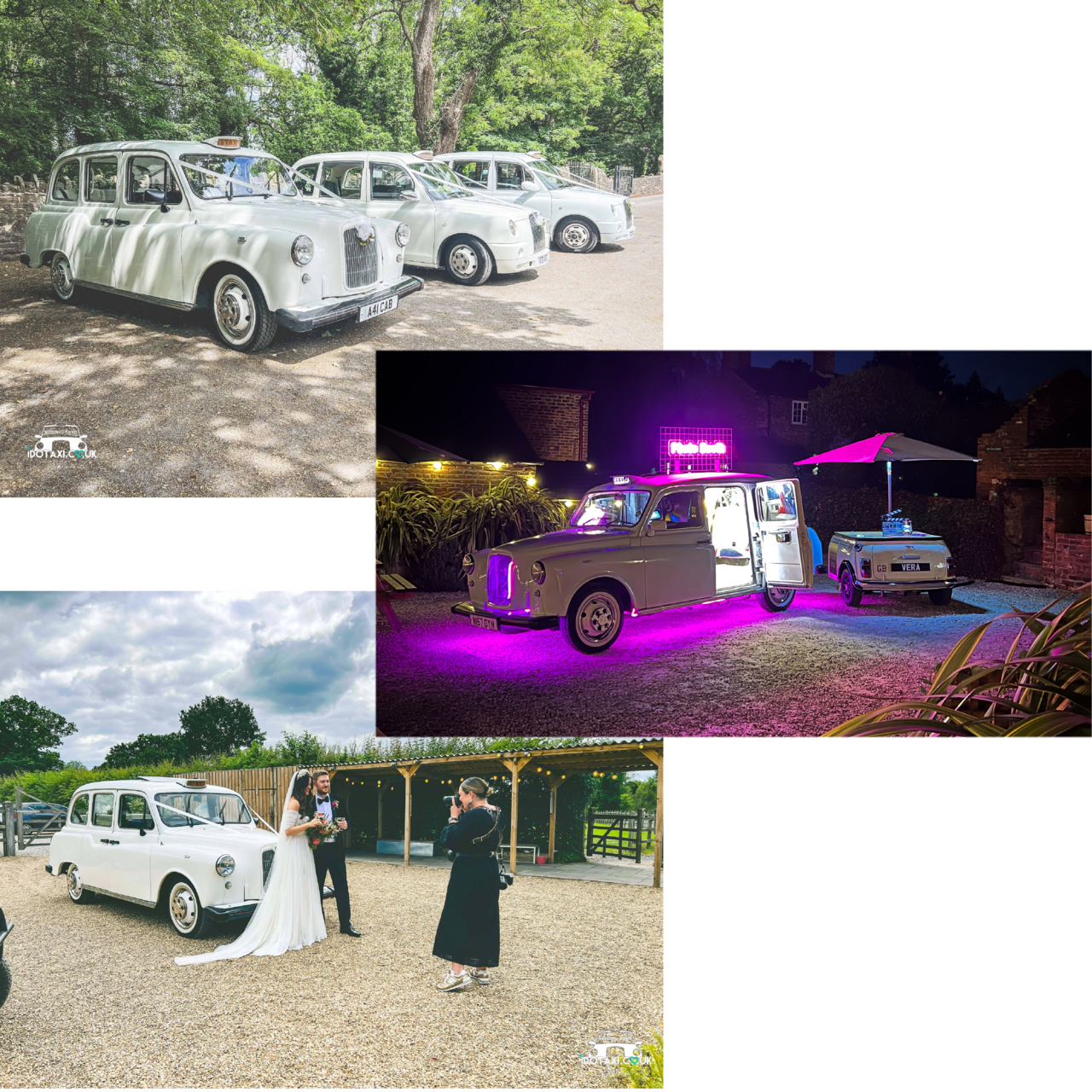 Photo Booth Taxis now have two taxis to choose from.
The team at Photo Booth Taxis now have two taxi booths to choose from, Tiff (white) and Reggie (black). Both of these options are available with roof top sign and pink neons. They also both arrive with Vera, their "mini" table in tow!
For More info please visit....
PhotoBoothTaxis.co.uk
More InfoMore Info

A stone throw away from our base in Partington we regularly find ourselves working on many a Warrington wedding.

With Warrington being such a great place and big area its packed with tons of amazing wedding venues.
Our wedding taxis have covered every inch of Warrington over the years and with the popularity of our
photo booth taxis they are starting to catch up.